More than half a million international students enrol into UK Universities each year. This is not surprising as Oxford, Cambridge and the Russell Group Universities are amongst the best in the world. Employers and academics worldwide recognise degrees awarded by these universities and understand their significance.
For most students, a UK University degree can be an important stepping stone to developing the required skills to drive their careers forward.
Our team has put together a list of the top 5 most frequently asked questions by international students who want to study in the United Kingdom.
If you are thinking about continuing your education journey in the UK but you are unsure how to proceed, the following questions might help you decide. If you need more in-depth information we are always here to help. You can reach us at info@gabbitas.com or call us at +44(0) 207 734 0161.
1. How can I study in the UK?
The first thing you should do after deciding to study in the UK is to select the university and choose the course that you which to follow. We recommend that you consider a number of criteria when choosing a university. First and foremost the course, followed by the style of University – is it campus based, is it in a city, does it have a good reputation for the course you have selected, what are you future career prospects?
We have a useful blog on choosing a university which outlines some of the important questions you should consider before determining your selection.
If you already know what you would like to study, but you are unsure about the university, it is a good idea to look at how universities compare in rankings. For a quick glance on how a university performs in your chosen subject area take a look at league tables by The Complete University Guide.
The next thing you will need to do is to apply through the UK's University and College Admissions Service (UCAS).
Top Tip: Make a list of several universities and courses in case your first choice does not work out immediately.
2. What is UCAS?
Every student who wants to study an undergraduate degree in the UK in a publicly funded university MUST apply through UCAS. UCAS works on strict deadlines. Most application deadlines are usually around the 15th of January but there might be exceptions if you want to study courses such as medicine or have chosen Oxford or Cambridge as your goal university.
If you are applying through Clearing (a chance for students to apply for universities with availability in courses that haven't filled up) make sure to read our guide University Clearing – How does it work? for more information. Applications for Clearing start on 6th of July so make sure to be ready on time.
To apply to UCAS you will need to pay a small application fee and submit your personal information, education history and a detailed personal statement. Submitting your best work and really polishing your application is the key to success when applying for university in the UK. If you need help, get in touch with us to see how you can make your application stand out.
Top Tip – Give yourself enough time to revise your application repeatedly until it is the best version it can be to boost your chances of getting into your dream university.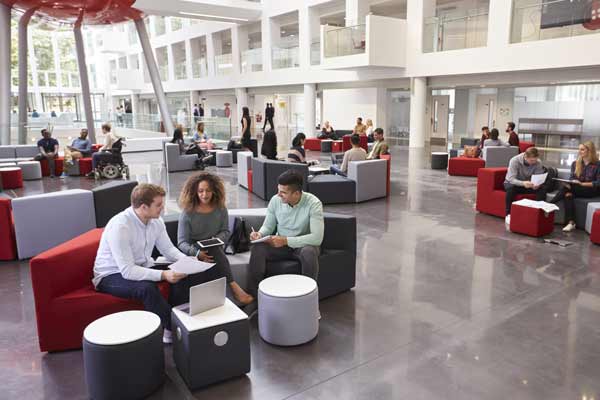 3. Do I need a Visa to study in the UK?
Unless you are from Switzerland or the European Economic Area (EEA), you will need a Tier 4 visa to study in the UK for longer than six months. While Tier 4 visas will most likely remain unchanged, visa conditions for students coming from Switzerland or the EEA might change in the future with new Brexit regulations.
If you do need a Tier 4 visa there will be some documentation you will need to submit to apply. The list of documents you will need to provide might change depending on where you are from but make sure to check these essentials:
Offer of place – An unconditional acceptance offer by a registered Tier 4 sponsored university
Proof of English Proficiency – can be obtained through completing an English Language test
Passport – valid travel documentation with passport sized colour photograph
Proof of financial support – you will need to prove that you have enough money to pay for your course and support yourself throughout your studies
Tuberculosis test – depending on where you are from (https://www.gov.uk/tb-test-visa/countries-where-you-need-a-tb-test-to-enter-the-uk) you will need to provide a negative tuberculosis test.
Once you gathered all your documents, you can begin the application process online. It will take three weeks to receive a decision. For more detailed information make sure to look at the government's website regarding Tier 4 visas. https://www.gov.uk/tier-4-general-visa
Due to Coronavirus some of these requirements have changed. For a more detailed overview visit https://www.gov.uk/guidance/coronavirus-covid-19-advice-for-uk-visa-applicants-and-temporary-uk-residents
Top Tip – Do not wait until the last minute! It can take a long time for all of these requirements to be completed. Contact us if you need help.
4. How much does it cost to study in the UK?
University fees in the UK are split between 'home' and 'oversees' fees. Home fees are for British nationals as well as for passport holders of Switzerland or the EEA. Oversees fees apply for any student who requires a Tier 4 visa to study in the UK.
Oversees fees are extremely course dependent and therefore it is impossible for us to say how much a course will cost without having a consultation with you first.
Generally, you should expect to pay a minimum of £3,500 to £18,000 per year depending on where and what course you study. You can find more information about oversees fees here. Other costs such as cost of living, travel or insurance are not included in university fees.
Top Tip: Contact your chosen university directly to ask about fees for the course you want to study. They will be able to give you the most accurate costs.
How will my study in the UK look like under Coronavirus restrictions?
It is unclear how long the measures set in place to contain Coronavirus in the UK will continue. COVID-19 has created a great deal of uncertainty for international students who will be starting their courses in September 2020.
However, many universities have already been working on contingency plans to offer all their students the highest quality learning and student experience as possible. Some universities have already notified their new undergraduate and foundation year students that they will conduct all their lectures for the first term online. In the meantime, they will be working making sure that lecture theatres and campuses can support social distancing.
For more detailed information we recommend contacting your chosen university directly. They will be able to give you more information on what measures they have decided to take during COVID-19. Please get in touch with us if you are unable to do so. We will be happy to help.
Universities UK has also published FAQs around how Covid-19 affects current and future international student.
If you want to study in the UK, but you need more information tailored to your specific needs do get in touch with us. We will be able to work with you to find the best possible university and the most suitable course as well as making sure your UCAS application stands out. We will also be able to give you more information on how your course might be affected by Coronavirus and what to expect when you are coming to the UK to study.
Email us at info@gabbitas.com or call us at +44(0) 207 734 0161.