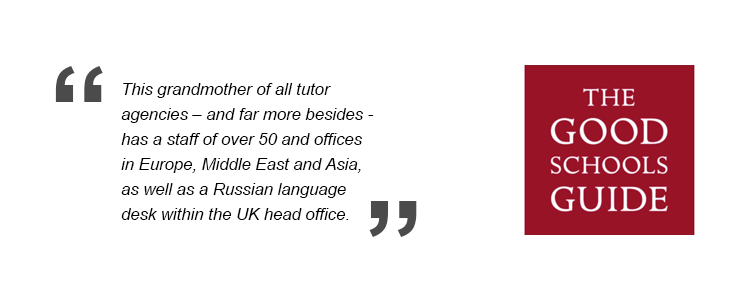 Gabbitas staff
This grandmother of all tutor agencies – and far more besides – has a staff of over 50 and offices in Europe, MENA and Asia, as well as a Russian language desk within the UK head office … Tutoring fits in here and has its very own manager Kirsty Reed, plus tutor consultant Mriam Fofanah. These are the two women you'll talk to if you have a straightforward tutoring query, with specialists on hand to deal with everything from a Russian speaking tutor to tutoring coupled with schools advisory . All this takes place in swish and roomy offices in St James's, overlooking Buckingham Palace, where all staff are suited and booted and even tea-bags are displayed in a smart wooden box.
This grandmother of all tutor agencies – and far more besides
'There's a real personal touch with Gabbitas,' one tutor told us – and we certainly found everyone we met (who included John and Kirsty) approachable and friendly, albeit not bursting with the kinds of anecdotes about transformed young lives that some other agency staff can't wait to wax lyrical about. Clients like the vibe here too. 'Everyone you speak to at this organisation is a true professional – it's expensive, but you get what you pay for,' says a parent.
What do Gabbitas offer?
A lot more than just a tutor agency, this is a one-stop-shop for the whole educational works, including school search, HE and careers advice, guardianship and other student services such as 11+ preparation courses, summer schools and immersion programmes. Gabbitas also helps … investors looking to establish a new school. They're also behind the ground-breaking UKiset test that simplifies the schools admissions process for overseas candidates. No wonder some families feel the organisation is hard to navigate because they offer such a lot, but nobody seems to have a problem with the individual departments. 'I am very pleased with all aspects of their service,' was a typical client comment – and it was reassuring to hear that 'they never oversell on their other services.'
Tutoring itself is a broad church, offered hourly (usually in students' homes, although it can be in Gabbitas's offices) within central London or on a residential basis (hugely popular across the whole of the UK and indeed around the world as little Tarquin heads off on his annual family yachting trip round the Caribbean or young Tabitha flies off in the family jet to ski in the Alps). In addition, a growing number of students come to Gabbitas via their Asian and Middle Eastern offices and Russian desk to receive online tutoring in their home countries. And then there's the home tutoring aspect. This is the firm that provided tutoring to everyone from the young actors in the Harry Potter films to members of the Royal Family. A typical client is high-end, with a large house in Knightsbridge – some even make a point of telling Gabbitas that when they call. If they do call, that is – with much of Gabbitas tutoring organised by the parent's PA or nanny.
This is the firm that provided tutoring to everyone from the young actors in the Harry Potter films to members of the Royal Family
For the most part, it's the obvious curriculum subjects at all the obvious levels, with most demand for help with 11+ and 13+ entrance examination preparation. That said, don't rule yourself out if you have a pre-schooler ('although we had to turn away a family with a two-year-old the other day – they wanted us to teach them for more hours than the child would be capable of staying awake'). At the other end of the spectrum, they can find tutors in some subjects to degree level. Some of their tutors have SEN qualifications and there is an increasing demand for help with dyslexia and dyspraxia. 'My daughter has a dyslexic working pattern and the tutor they assigned her is brilliant,' one parent told us.
Gabbitas background and basics
Venerable. Originally called Gabbitas and Thring, they began in 1873 as a pioneering agency recruiting teachers for top schools, both here and overseas. This is the place you would have gone to in years gone by for your governess or for a tutor to accompany your wayward son on the grand tour prescribed to get over his crush on the tweeny. Former applicants for tutoring positions include Evelyn Waugh, W H Auden, H G Wells, Sir Edward Elgar, Amy Johnson, Sir John Betjeman and, more recently, Stephen Fry. But although this is the crusty end of the market with nothing to prove, there is little sense of them sitting back and watching later models race past – doubtless helped by the fact that they were taken on by the dynamic Prospects Group in 2014.
Tutors – of whom there aren't as many as you might think: under 40 were working actively with 55 clients when we visited – have historically been ex-teachers and retired professionals, but the average age has shot right down to 25-35 more recently as younger tutors (many doing postgraduate study) enter the fold. Most are Oxbridge and Russell Group educated, although they don't exclude other institutions if the skills and experience are right. Similarly, while they favour tutors with previous experience, this isn't set in stone and will be overlooked 'if a tutor has a first class degree but demonstrates the all the right characteristics.'
Surprisingly perhaps (as we'd have thought there's no need), Gabbitas advertises online for tutors, getting around 10 applications a week. CV is vetted and lucky candidates are invited to an interview (seen as something of an accolade in itself) by a team at the London offices, where they face challenging questions and a 15-minute mock lesson. Relevant documentation and DBS certification are then verified; ditto references and if successful, new tutors are closely monitored for the first few months. 'The interview process is so thorough – nobody would get through it without really knowing their stuff,' one told us.
As for clients, following a conversation with one of Kirsty's team and an (optional) assessment (for an additional fee), you'll receive a list of possible tutors, notable for brevity and accuracy. 'I've worked for other agencies, but none are as thorough as Gabbitas in the matching – when they refer students to me, they've really done the research about what the student needs,' says one tutor. 'They make a real effort to match the right experience and personality with the tutee and they keep the support going for the tutor throughout,' says another.
I've worked for other agencies, but none are as thorough as Gabbitas in the matching
Brief feedback is encouraged from client to tutor after every lesson – extremely valuable, one parent told us – more fully when the tutoring finishes. Not that you're likely to be gone for long, with most families who contact Gabbitas hooked in for the long-haul – either taking advantage of their other services or coming back for tutoring for subsequent offspring. 'Not only do our families come back to us at different stages of their child's education, but also to assist siblings as they develop and grow,' says John.
Training is not offered to tutors – 'the quality of our tutors means there is rarely a requirement for it' – but tutors are invited to networking events, as well as to the annual Tutors Association Conference, and tutors we spoke to say they regularly ask them if they need support with anything.
Remarks
Tutors clearly feel at home with Gabbitas and pay tribute to the professionalism of the organisation. 'This is a really good outfit – I stick with them because they do things properly.' 'Gabbitas is an absolutely wonderful company to work for – they are highly efficient, motivated and friendly both when it comes to tutors and clients.'
Parents also praise the professionalism, the common-sensical and practical advice they are offered. 'They won't just tell you what you want to hear and take your money – they are realistic with you, and that includes bringing tutoring to an end if they feel it might become a crux or has run its course.' 'This is an excellent tutor agency, providing excellent tutoring.'
Don't expect to be blown away by the passion and the zeal, but you'll feel secure with the experience and the professionalism. This is dinner at the Dorchester rather than nimono at Nobu.