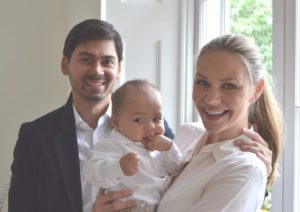 Many parents worry about getting their child into a good school, but Michael and Jonna Scherb avoided this by working with Gabbitas while Jonna was pregnant. Gabbitas secured places for their child, Maximilian, at the very best nursery, pre- prep and prep schools in Notting Hill, London, before he was born. This has saved them time and stress, allowing them to focus on work and be a family.
Established in 1873, Gabbitas supports families through a range of services including school and university placement, guardians for international students, entry testing and tutoring. Schools also come to Gabbitas for advice on school builds, school improvement and the recruitment of teachers and senior leaders.
Michael and Jonna are a relaxed couple, despite recently starting a family, renovating their home in Knightsbridge and running their businesses. They are organised in everything they do, and this included deciding their unborn child's future. Michael, who is Founder and General Partner of the private equity firm Appian Capital (a global investment firm), wanted to avoid the distraction of school searches he had seen friends go through. Jonna, who runs Addalit Jewellery (a luxury bespoke jewellery design business), didn't want the pressure – and possible disappointment – of trying to secure a good school place.
The couple decided they needed support in navigating through the maze of education choices. Michael said: "I'm half Austrian and half Singaporean, born in Taiwan and grew up in the US and Germany, and Jonna is from Finland. So with little understanding of the British private schooling system and busy lives we wanted to find a company with the best experience, reputation and quality service who we could really trust. A number of our friends had used Gabbitas before and recommended them, so they were always going to be on our shortlist."
They interviewed three education consultants when Jonna was seven months pregnant and chose Gabbitas after meeting Catherine Kelsey, who leads the Schools Placement Team and is also a director. Jonna said: "It was obvious Catherine had so much experience and completely understood our requirements. I have a creative background whilst Michael is more business focused, so it was a challenge to find the right solutions to match all our values. But Catherine did it – she was absolutely fantastic to work with; very pro-active, got to know us very quickly and really drove the process forward with good planning and by taking the initiative so we were always on the front foot. In fact the whole team at Gabbitas did a great job!"
Catherine joined Gabbitas in 2002, has three children who attended prestigious independent boarding schools and more than 20 years of experience working in the independent school sector, making her highly respected within the industry. Catherine said: "Getting a place at the best schools for your child is often stressful for parents. My advice is to start as early as possible, and Gabbitas can help make the journey easier. We have strong relationships with the best schools in the country and can support you in finding the right ones for your child. This was the first time I had helped a child who wasn't even born, but I'm sure this will become more usual as there is increasing competition – especially from abroad – to secure limited places in the most prestigious British schools. I was pleased that I could help Mr and Mrs Scherb and look forward to continuing to support their delightful son Maximilian through his education journey."